Walk 6
---
White Coppice to Darwen Tower
---
| | |
| --- | --- |
| Length | 11 miles |
| Time | 6hrs |
| Terrain | Moorland with steep ascents. |
Take the path in walk 4 to Great Hill.
At the summit continue ahead (don't take the flagged path) and after 200 yards you should see the view in the photo below (assuming its a clear day):-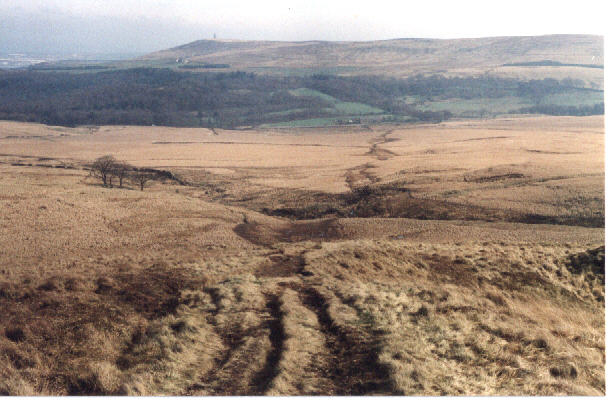 Always keeping Darwen Tower slightly to the left follow the path down and eventually you will arrive at a farm on the main Bolton - Preston/Blackburn road. The farm is called Piccadilly. Here turn right and after 150 yards turn left through a gateway. Follow the track which takes you to Hollinshead Hall (in ruins). Turn right if you wish to examine the Hall, but our path is left.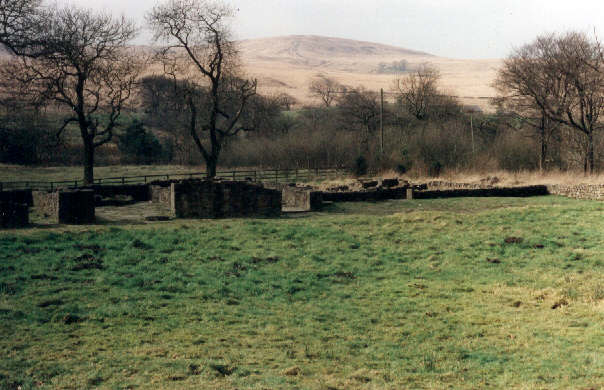 Great Hill from Hollinshead Hall
Here there is a gradual climb and eventually a five barred gate is reached. Turn right and follow the track to the mettled road and then turn left. Follow the road till you approach The Royal Arms pub. Here (if you don't stop for a pint) turn right and follow the path across the field. Go through the gate at the end of the field and follow the path round to the left and start the steep ascent to the Tower (which you can enter and climb to the top of).
To return, make your way back along the same route to The Royal Arms. If you didn't go in before you will now. Go through the gate opposite the pub and follow the path down. Eventually you will arrive at a bridge where 4 paths meet. Go over the bridge and take the wide track which will, after a mile, bring you out on the A675. Turn right and follow the road for 250 yards.
Take the footpath to the left and start to climb gradually. When the track forks take the right hand route and it will bring you out on a mettled road leading to Brinscall. Stay on this for a short time and as the road veers to the right and starts to descend there is a small lane to the left which you should take. Follow this lane (passing the quarry on the left) and descend into Brinscall. Take the first left (passing the public baths to your left and stay on this road to the end of the lodge. Turn left and walk adjacent to the lodge and as you enter the pine woods take the path to the right. Follow this path and when you arrive at a bridge cross the Goit and turn left, keeping the goit to your left. The path you are now on will take you to White Coppice.