Walk 5
---
White Coppice Circular via Great Hill, Spitlers Edge and Anglezarke.
---
| | |
| --- | --- |
| Length | 9miles |
| Time | 5hrs |
| Terrain | Moorland with several ascents. |
From White Coppice follow the instructions in Walk 4 to Great Hill.
At the top of Great Hill take the flagged path to the right. Stay on this and when the slabs abruptly end continue on the path ahead of you. Continue over Spitlers Edge and Will Narr. When you see the Rivington - Belmont road ahead look for the broken down stone wall to the right (this is 150 yards before the stile onto the road).
Turn right and follow the wall and the stream. After half a mile you meet a farm track. Turn right here and pass the ruins of Higher and Lower Hempshaws. Continue on the track and after passing the ruins of Simms Farm continue on to Lead Mine Valley.
As you drop into the Valley cross the brook and make the steep ascent to the Monument.
At the monument turn left and then right over the stepped stile over a dry stone wall. Follow the path until it joins another track and turn left. Stay on this path until you come to a farm gate allowing access onto the metalled road which is slightly in front of you. This gate is known as Jepson's Gate. The farm away to the left is Jepson's Farm.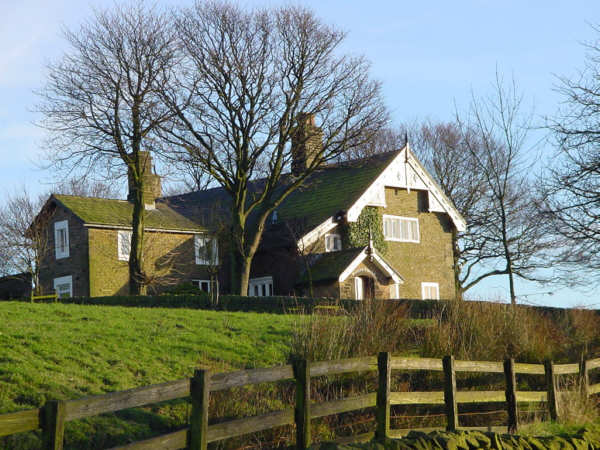 The Manor House
When you join the road do not turn left but continue ahead. After 200 yards the road turns left and descends to Manor House. Just after the right hand bend at Manor House turn left through a gate and cross the field to a second gate. Go through this also and take the sharp descent to High Bullough reservoir. Ignore the path over a bridge at the bottom and continue, with the reservoir to your left.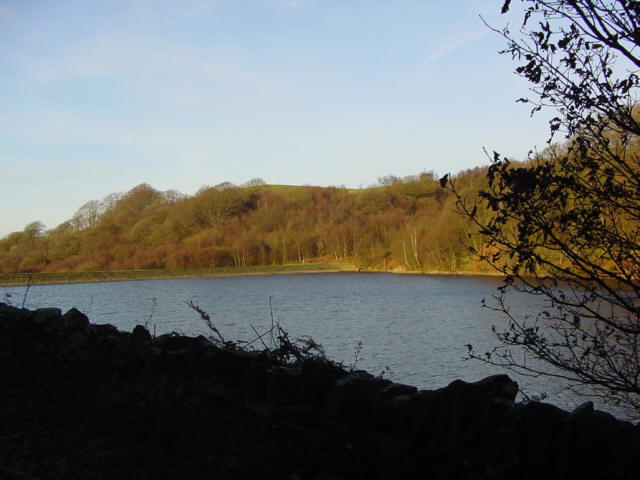 Chorley or High Bullough reservoir
Soon you are below the level of the water and as the embankment ends, turn right. Follow this path through the trees and then across the fields. To the left are good views of Anglezarke reservoir and Healey Nab. Eventually you will descend some steps and arrive on the road near to Waterman's Cottage.
As you turn left onto the lane turn first right through the next gate. The path gently climbs and bears left. To the right the severe slope of Stronsey Bank is evident. Continue along the track and after half a mile you will reach the bridge crossing the Goit at White Coppice, where we started from.